SET-listed developer Pruksa Holding Plc (PSH) looks set to boost sales through overseas sales agents, the B2B channel, a buyer referral programme and a resale scheme, as well as winning back former customers, a strategic move to retain market share and leadership.

Deputy group chief executive Supattra Paopiamsap said the company plans to pitch condominium projects in the middle- to lower-end segment and near mass transit stations to Chinese buyers.

"We are working with some Chinese agents to introduce a few of our condominium projects that were launched in Thailand," Mrs Supattra said Thursday. "We want to expand our sales from the overseas market."

According to Chinese agent and property portal Uoolu.com, many condo projects in Bangkok have been introduced on the website -- three of them from Pruksa.

The Pruksa projects are The Privacy Tha Phra Interchange near Tha Phra MRT station, The Privacy Rama 9 near Ramkhamhaeng Airport Link station, and Chapter One Eco on Ratchadaphisek Road in the Huai Khwang area.

Mrs Supattra said Pruksa this year will be more active in the B2B (business-to-business) channel by introducing residential projects with attractive campaigns and discounts directly to companies, which in turn will introduce them to employees.

To date, Pruksa has sold housing units to staff at more than 140 companies through B2B partnerships.

Pruksa is also introducing a buyer referral programme to boost sales from existing customers who will get reward points when they refer new clients. The programme will be launched in August.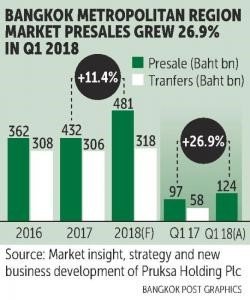 In addition, the company will set up a resale channel to help Pruksa customers sell their existing units when they want to buy or move a new one.

"Through partnerships with banks, we will also continue trying to win back some customers who are rejected for mortgage loan applications or cancel a booking," Mrs Supattra said. "This will help boost our revenue."

Pruksa Thursday reported a net profit of 862 million baht on revenue of 8.35 billion baht in the first quarter of 2018, up 26.6% and 3.6% from the same period a year earlier.

Of first-quarter revenue, 4.55 billion baht was from townhouses, down 4.9%. Some 2 billion baht was from single detached houses, down 3.8% and 1.8 billion baht was from the condo segment, up 47.7%.

Presales in the quarter fell by 4.6% to 12.7 billion baht, of which 4.78 billion baht was from townhouses (down 7%) and 2.86 billion baht was from middle- to lower-end condos (down 15.4%).

Single-house presales in the quarter jumped 11% to 2.46 billion baht, and high-end residential presales rose 1.2% to 2.58 billion baht.

PSH shares closed Thursday on the Stock Exchange of Thailand at 22.10 baht, down 20 satang, in trade worth 25 million baht.

Source: Bangkok Post – 11 May 2018